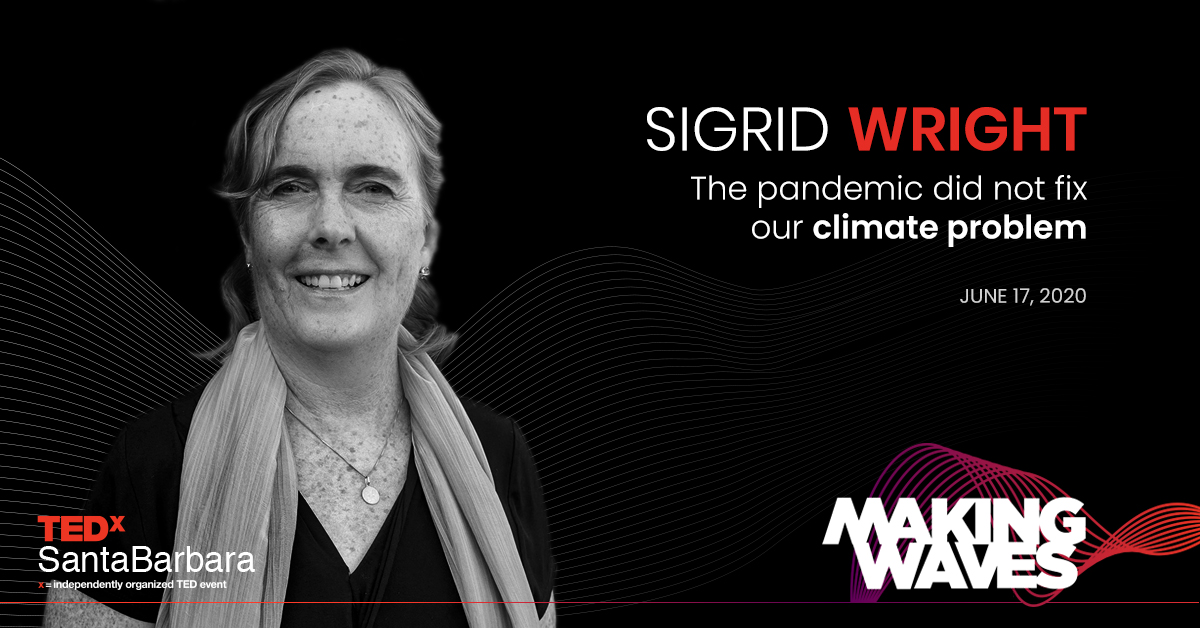 Sigrid Wright – The pandemic did not fix our climate problem
---
The pandemic did not fix our climate problem
Rethinking how we come back online.
---
Sigrid has a challenging role as the CEO of the Community Environmental Council. She's thinking about emissions issues, protecting our food system, including how our ecosystem will recover after COVID. She has some definite ideas of how we can move forward.
CEO, Community Environmental Council, Santa Barbara
---
---
5 important trends for the climate
These we mentioned by Sigrid during the conversation. As promised, here are links to help you understand more about each of these trends. 
1. A drop in passenger vehicle travel 
While real-time data based on cell phone mapping shows that in almost every corner of the U.S., people are back to traveling – often more than pre-COVID days by 25-100% -- the workplace may be more permanently changed as employers and employees get comfortable with working from home. Read articles in Forbes and the New York Times. 
2. The significant drop in air travel  
Air travel is down about 80% compared to this time last year. According to a recent poll by the International Air Transport Association – more than half of Americans will continue to avoid air travel for the foreseeable future.
These two trends – coupled with the massive, 20-year growth of renewable energy, may have sped up an important moment that climate scientists call "peak emissions," that moment when we hit the zenith of carbon dioxide released into the atmosphere through human activity and begin to "bend the curve" on new emissions. 
3. Less oil, more renewables in Santa Barbara County 
At the beginning of the year, local climate activists expected to be in the fight of the decade over approximately 750 new oil wells proposed for the Cat Canyon region. In the last month, two of the three proposed projects have pulled the plug: the Petrorock project and the Aera Energy project. While several variables led to these developments, the main factor was that the price of a barrel of oil dropped into the single digits – and even went below zero for a while – making new oil projects became less economically feasible. Meanwhile, after more than a decade in the planning, project developers broke ground on the first utility-scale wind farm in the county in April and more than 20 cities and counties in Santa Barbara, Ventura and San Luis Obispo are breaking from the utilities to offer Community Choice Energy programs.
4. The shift to plant-based meats continues to grow rapidly
Sales of alternative meat products in grocery stores went up 264 percent during the first part of the pandemic. While consumer interest in plant-based meats was firmly in place before COVID-19, the trend may have been accelerated when shoulder-to-shoulder meatpacking facilities became hot spots for virus transmission and the supply chain for traditional meat was rocked. Also, companies like Impossible Foods and Beyond Meat are more flexible than factory farms and can halt or ramp up production more quickly. 
5. Consumer spending has dropped. 
While we're not used to calling a drop in consumer spending a positive sign – and indeed it has been linked with some painful and unsustainable contractions such as a rapid tanking of the restaurant industry -- I'm using this as a rough and imperfect measure of a trend that is positive for the environment: buying less stuff. This is sparking conversations worth having about decoupling growth-at-all-costs from our notions of healthy communities, such as this one: COVID-19 Broke the Economy. What if We Don't Fix It?