A special free event
direct from the TED2020 MAINSTAGE.
Everything about TED this year has been different. The talks and performances at TED2020 were presented virtually. As a result, these intimate, direct-to-camera presentations feel deeply personal and compelling.
This year we have the opportunity to bring you a selection of these talks. TEDxSantaBarbara has curated 3 hours of the best of TED2020. The talks cover a wide range of topics including inspired musical interludes.
You can participate in two ways, via Zoom or the Livestream on Facebook. Experience three-hours of inspiration with an opportunity for live interaction between the talks.
Please join us on Saturday, August 15th, for this unique opportunity to experience TED.
Featured Speakers and Performers
---
Amanda Gorman
Inaugural Youth Poet Laureate of the United States
Adeloa Fayehun
Journalist, Satirist
John Lewis - Bryan Stevenson
U.S. Representative, Social Justice Advocate
Ethan Hawke
Actor, Writer, Director
Titus Kaphar
Artist
Julia Watson
Architect, Landscape Designer, Author
Rufus Wainwright
Musical Artist and Songwriter
Sheku & Isata Kanneth-Mason
Cellist and Pianist
Shamuran Abed
Senior Director of BRAC
Jennifer Eberhardt
Professor, Author
Ali Kashiani
Designer, AI Specialist
Aloe Blacc
Singer
Lucius
Singers, Songwriters
Phillip Lubin
Physicist
Cynthia Erivo
Actor, Performer
Kian Williams
Cofounder of SIRUM
Refik Anadol
Media Artist
Jad Abumrad
Radio Host, Producer
---
Mark Sylvester, Executive Producer of TEDxSantaBarbara will be your host,
along with Tracy Wyle, Director of Production.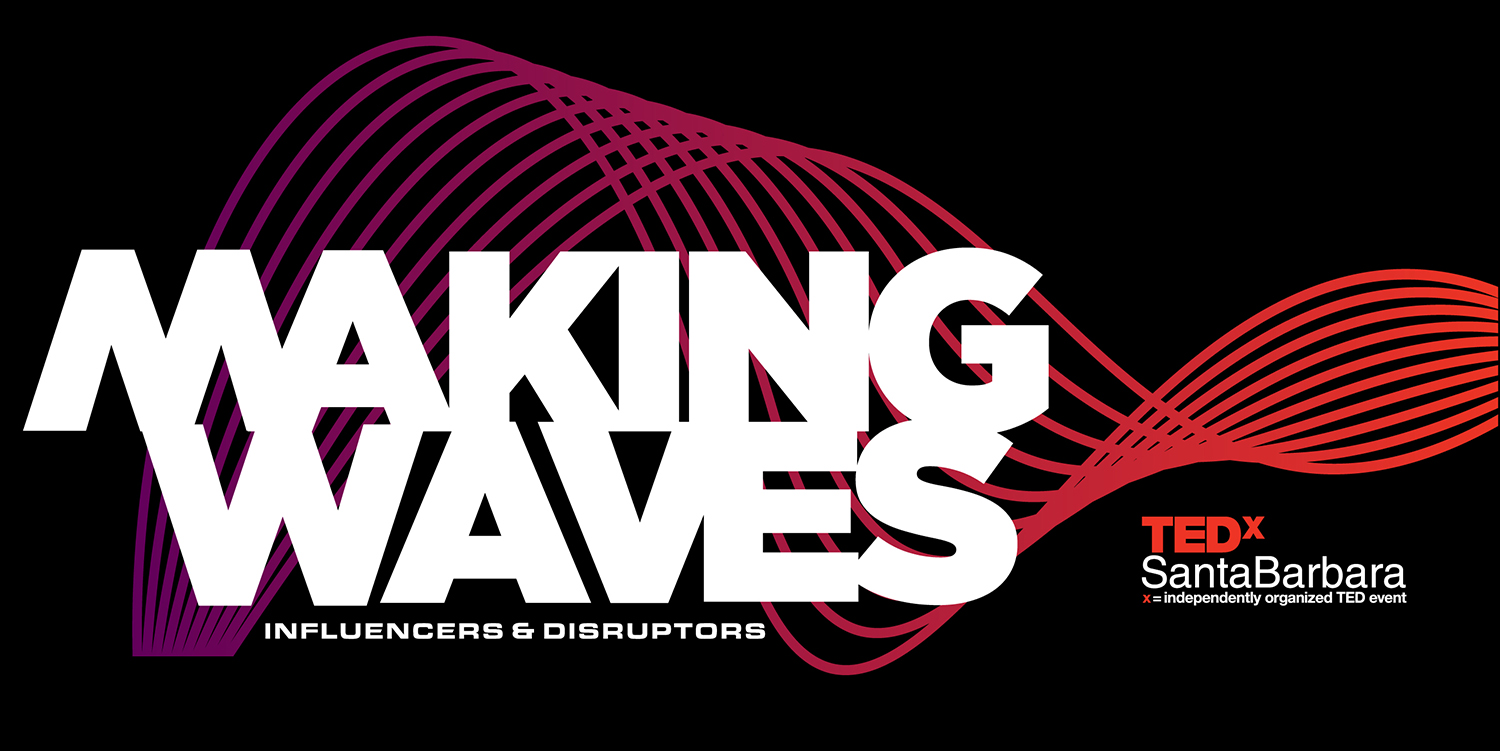 Conversations with Influencers
and Disruptors
Live conversations every
Wednesday (mostly) at 4 pm Pacific
OUR ROLE AND RESPONSIBILITY - NAVIGATING THROUGH COVID-19
---
The world is grappling with an issue of enormous scale and human impact, and our hearts go out to all who have been affected by the outbreak of coronavirus (COVID-19).
---
At TEDxSantaBarbara, we believe it is our role and responsibility during this time to prioritize two things: the health and the well-being of our community while also playing a constructive role in supporting local health officials and government leaders as they work to contain the virus. Through that lens, we will continue to make decisions with vigilance and courage informed by the latest science-based information.
Our first step is to postpone the two upcoming events, the TEDxSalon Sea Level Rise on March 18 and the TEDxAdventure at the Carpinteria Salt Marsh on April 29. As of now, we are continuing to plan for our main event in the Fall, scheduled for Saturday, November 7.
We will continue to post updates here and through our newsletter.
---
There are many ways to participate in TEDx
---
This year we're continuing to focus on ways to bring the TEDx community together. Our focus this year is going to be on celebrating Santa Barbara as the birthplace of world change. Our Salons, Adventures and Main Event in November will give us opportunities to share ideas and take collective action.
JOIN US
Regular events for smaller groups to explore single topics of community interest
Regular field trips for smaller groups to explore our community
Our Annual All-Day Event with Live Speakers and Performers at The New Vic
This year, as we begin producing a series of virtual talks, we are curating ideas that are influencing us, locally and globally. These short conversations are not news-focused. Instead, we are highlighting discussions of hope and optimism while showcasing actionable solutions.
The topics we are focused on have to with the Pandemic and Social Justice. We look at them individually and at times see how one has influenced the other. We look through the various lenses and hear from different voices as we explore the topics. One of our guests introduced us to the word, Syndemics, which is the collision of different epidemics. This syndemic and the chaos, complexity, and the intricate complications it has brought to all of our lives is what Making Waves is all about. All while finding the silver thread of hope from our guests.
We navigate through opinions to help us all understand these challenging times by focusing on positive disruption. We've heard that normal will never be normal again. This year we're Making Waves.
Making Waves is Hosted by Mark Sylvester and Produced by Tracy Wyle
"It was an honor to contribute, once again, to the profoundly vital discussions the TEDxSantaBarbara team hosts, initiates and propagates with unparalleled integrity and consistency."

Dr. Harry Grammer, Making Waves speaker
"Really nicely done to be using your platform to spotlight something like this. Very proud of you guys."

Evan Asher, TEDxSantaBarbara performer
"Thank you for inviting me to be a part of your Conversations. Each of these presentations helps to make connections across disciplines, as a result, we're all inspired to learn more."

Dr. Yonette Thomas, Making Waves speaker
"This series has been terrific! I have caught a few of them and the conversations have been insightful. Keep up the great work."

Julie Sorenson, Attendee
"Thanks so much for hosting such an important presentation by Dr. Wizdom Powell."

Cheri C. Wilson, Education and Training Manager, Johns Hopkins Medicine
This program is one of the best I have ever seen in my life. This was amazing and there are not enough words to say Thank You and your Team."

Attendee, BJ King
---
Broadcast on Zoom and Live on our Facebook Page
Be sure you don't miss these conversations coming later this year.
---
---
Keith Witt 
Cultivating a post-outrage consciousness
Jan Campbell
Finding a Vaccine for Violence
Katie Hershfelt
Making it worth it to plant the next harvest: Reinventing Community Supported Agriculture
Kerri Murray
The Role of Shelter During a Pandemic
Lisa Biggs
Building Emotional Resilience in our Children
John Greathouse
Looking Around the Corner: The Zoomers Role in the post-COVID success
Jackson Gillies
New Year's Musical Celebration
Andreas Forsland
Connecting Intentions to Outcomes: Reinventing Interpersonal Communications
Shannon Kenney
Social Justice is on the front lines of Sustainable change.
The Importance of Partnership
Our event is 100% volunteer-driven and we rely on the community for financial support and in-kind contributions.
---
A glimpse of a recent TEDx event
---
Make sure you don't miss any of our events or opportunities to participate with the TEDx Community
---
---
We're looking for a few more awesome Volunteers.
---
Volunteers are the backbone of our TEDxSantaBarbara events. We've been very fortunate over the years to have built a team of wonderful and dedicated change agents. We'd love to invite you to apply for our 2020 Volunteer team.
---
---