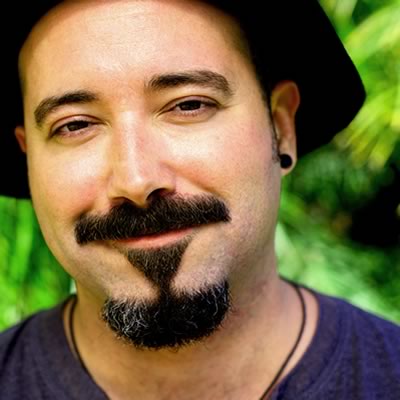 The Privilege of Self-Actualization
Through story, spoken word, and musical performance, Dan Perea explores paths to becoming the fully realized version of yourself: your passions evident, your talents honed, and the ability to possess a fulfillment that exists within, regardless of what's going on "outside".
Dan Perea is a singer/songwriter, multi-instrumentalist, producer, and software engineer in Santa Barbara, CA. He has toured the country as a traveling musician, performed as a solo artist and in various local groups, all while writing and producing songs in a wide range styles including: soul, folk, reggae, funk, electronic, and spoken word. Having grown up bicoastal, he spent most of his young life living on the east coast in New Jersey.
Dan became passionate about both music and engineering at a young age and began designing and developing websites professionally at the age of 14. Musically, he started as a drummer, and then moved on to singing and songwriting, learning guitar, bass, and piano along the way. Dan spent five years after high school writing music and touring the country with a traveling band singing and playing bass. He finally fulfilled a dream by moving to Santa Barbara in 2008, where he attended UCSB and earned a degree in Communication and Marketing. He also received the Technology Entrepreneurship Certificate from the School of Engineering at UCSB and was awarded the "Young Innovator Scholarship" for his prowess in innovation.
Still a Santa Barbara resident, Dan is currently writing, producing, and performing his music under his own name. Additionally, his interest in metaphysics and futurism has inspired the electronic project, The Great Filter, which touches on a variety of genres from ambient to EDM. In his professional life as a software engineer and UX designer, he has helped grow the wellness company BioIQ by contributing to the design and development of their online platforms. Additionally, he cofounded and created the website GratefulForBlank.com, which aims to inspire positivity and happiness through gratitude. Up-to-date information about Dan's projects, as well as upcoming gigs can be found on his website, http://DanPerea.com.