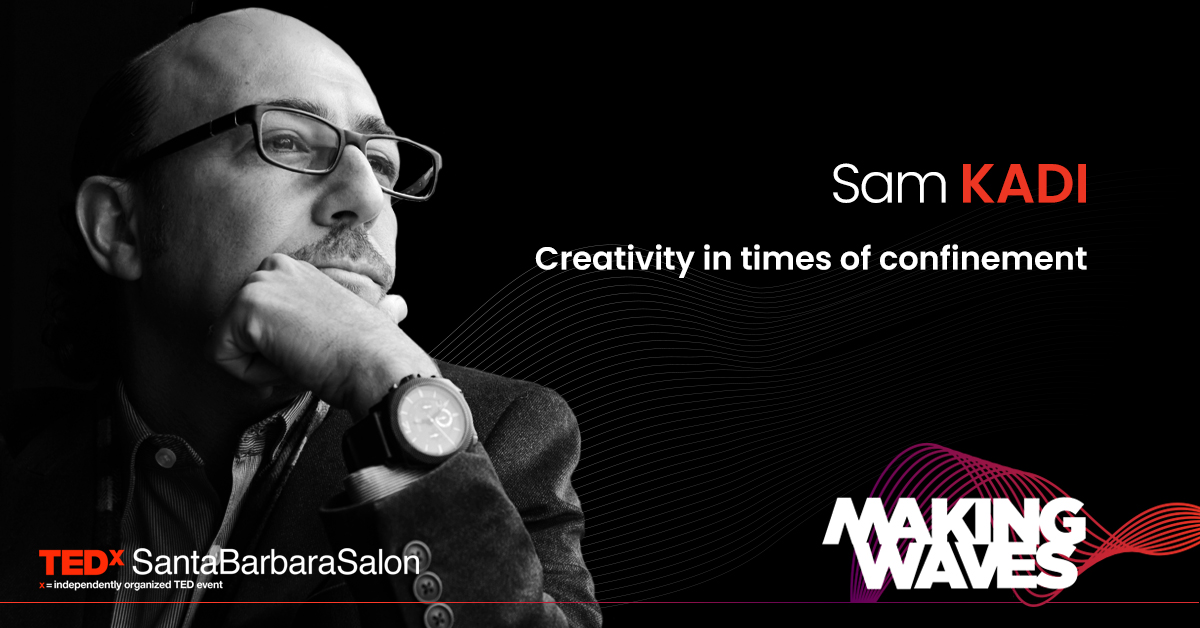 Sam Kadi – Creativity in times of confinement
Creativity in times of confinement
Filmmaker Sam Kadi has been creating films under extreme conditions well before the Pandemic. His TEDxSantaBarbara talk spoke about how he created a film to capture the Syrian crisis without ever being able to travel to the country. In this conversation, we'll explore how he's managed to remain creative during a global lockdown and share some of the lessons learned.
Sam Kadi is an award-winning filmmaker based in Santa Barbara, California. Kadi is the writer, director, and producer of the critically acclaimed feature drama THE CITIZEN, starring Cary Elwes (The Princess Bride). THE CITIZEN received five awards on the international festival circuit before being released theatrically worldwide. The film was named among the "Best 10 Films of 2013" by Examiner.com. Kadi's recent award-winning documentary, LITTLE GANDHI, was an Official Selection for Best Foreign Language Film for the 2017 Oscars. Kadi was invited to screen LITTLE GANDHI and to speak before U.S. Members of Congress, Members of the United Nations, Amnesty International, and the Canadian Parliament where Kadi met with Canadian Prime Minister Justin Trudeau. Kadi is the producer of the upcoming feature animation film LAMYA'S POEM (60th Annecy Film Festival Official Selection - 2021).
Kadi has been recognized by the prestigious Cinema For Peace organization for raising awareness of human rights issues through film and was asked to speak about the same subject before the International Criminal Court at The Hague, The Netherlands. Kadi was presented with a Humanitarian Service Award by the Life for Relief and Development Organization and in 2014, The SHOAH Foundation, founded by acclaimed director Steven Spielberg, chose him as a Spotlight Juror.
Kadi is a TEDx speaker, the founder of Sam K Production, and a member of the Directors Guild of America (DGA), where he serves on the Guild Asian American committee. Kadi is a jury member for multiple film festivals including the European Independent Film Festival (Paris).
---
Dec 8, 2021 04:00 PM in Pacific Time
"Women's economic empowerment is not just a moral imperative, it is an economic no-brainer." Women make significant contributions to economic growth, wealth creation, innovation, employment, and human capital. Yet, their participation is constrained by structural...
Dec 15, 2021 04:00 PM in Pacific Time
Sandra Kwak, the CEO of 10Power, will explain their work with local partners to develop and finance commercial-scale solar projects in Haiti, making renewable energy affordable and accessible for tangible improvements in livelihood and prosperity.
Jan 5, 2022 10:00 AM in Pacific Time
The way we design and build our homes, energy and water and waste systems, streets, sidewalks, neighborhoods, landscapes, open spaces, and sources of food impacts just about every level of our lives and the broader...