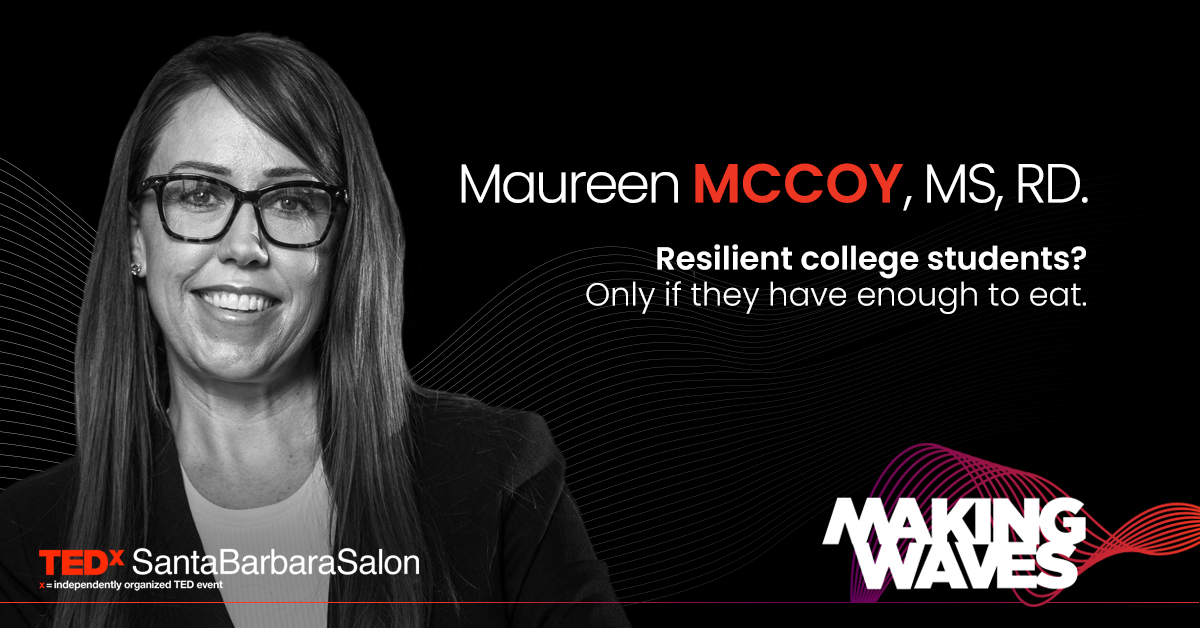 Maureen McCoy – Resilient college students? Only if they have enough to eat.
Resilient college students? Only if they have enough to eat. How can we feed the college students of the future?
We live in a nation with more than enough food, but the numbers of hungry people continue to rise, with some of the greatest jumps in the college student population. The government supports food programs in preschool through high school. Still, as soon as a student steps onto a college campus, in which they are paying for school for perhaps the first time, they also need to figure out the sourcing of food amongst many other expenses.  Unfortunately, food is the last thing a student may focus on after paying for rent, tuition, and books.  This lack of healthy food leads to a student without the brainpower to get through their studies and can lead to the difficult decision to drop out.  We can do better.
MS, RD.  Senior Lecturer of Nutrition at Arizona State University
Maureen is a Senior Lecturer in the College of Health Solutions at Arizona State University (ASU).  Here, she is the Degree Director for the Food and Nutrition Entrepreneurship Bachelor of Science and Bachelor of Applied Science degrees.  She also co-leads the Health Policy and Equity Affinity Network, seeking external funding for research projects and publishing articles in health affairs blogs. However, one of her true passions is serving as the faculty advisor for the Pitchfork Pantry (food pantry for ASU students). With this group, she works with external partners to bring food and resources closer to campus for students who lack transportation and money to purchase these items.
---
Dec 8, 2021 04:00 PM in Pacific Time
"Women's economic empowerment is not just a moral imperative, it is an economic no-brainer." Women make significant contributions to economic growth, wealth creation, innovation, employment, and human capital. Yet, their participation is constrained by structural...
Dec 15, 2021 04:00 PM in Pacific Time
Sandra Kwak, the CEO of 10Power, will explain their work with local partners to develop and finance commercial-scale solar projects in Haiti, making renewable energy affordable and accessible for tangible improvements in livelihood and prosperity.
Jan 5, 2022 10:00 AM in Pacific Time
The way we design and build our homes, energy and water and waste systems, streets, sidewalks, neighborhoods, landscapes, open spaces, and sources of food impacts just about every level of our lives and the broader...