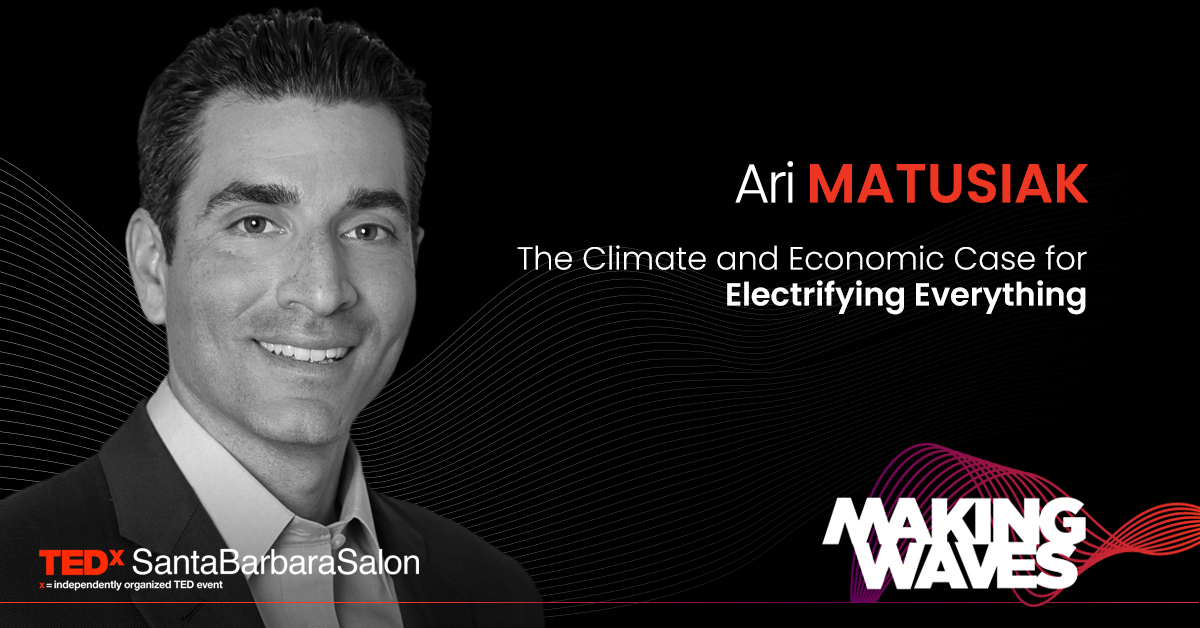 Ari Matusiak – The Climate and Economic Case for Electrifying Everything
The Climate and Economic Case for Electrifying Everything
Ari Matusiak is CEO of Rewiring America, a growing nonprofit working to launch a movement that electrifies everything, starting with our 121 million households. We are motivated by the fact that 90 percent of all emissions in the U.S. are energy-related, and 42 percent of those energy emissions come from the decisions we make in our homes: how we heat our air and water, cook our food, and dry our clothes, and what kind of cars we drive.
Ari is the Co-Founder and Managing Partner of Purpose Venture Group, a social impact advisory firm, and incubator that builds community-centered ventures to address climate and economic inequality. He has almost a decade of executive leadership and operational experience in renewable energy and household electrification.
Ari served in the Obama White House as Special Assistant to the President and Director of Private Sector Engagement. He focused on economic policy related to jobs and competitiveness and oversaw the relationship between the Administration and the private sector. He is Co-Founder and Chairman of Young Invincibles; a national nonprofit focused on delivering economic opportunity to young adults.
Earlier in his career, he was the senior executive responsible for strategy and impact investing at the Rhode Island Foundation, one of the country's oldest and largest community foundations. His efforts resulted in over $1 billion of affordable housing and thousands of new, local jobs. In addition, Ari was a fellow at the Beeck Center for Social Impact and Innovation at Georgetown University. He graduated cum laude and as a Public Interest Law Scholar from Georgetown University Law Center, and is a magna cum laude, Phi Beta Kappa graduate of Brown University. He lives with his wife, two daughters, and puppy in Southern California.
---
Jan 26, 2022 04:00 PM in Pacific Time
With the recent renaming of Facebook to Meta, the launch of the Omniverse by NVIDIA, and the proliferation of AR (Augmented Reality and VR (Virtual Reality), it is finally time for the Metaverse to become...
Feb 2, 2022 04:00 PM in Pacific Time
In today's world, it's become increasingly important for individuals and organizations to prioritize inclusion. In this conversation, Dr. Suzanne Wertheim shares one element where everyone can strive toward inclusivity: language.