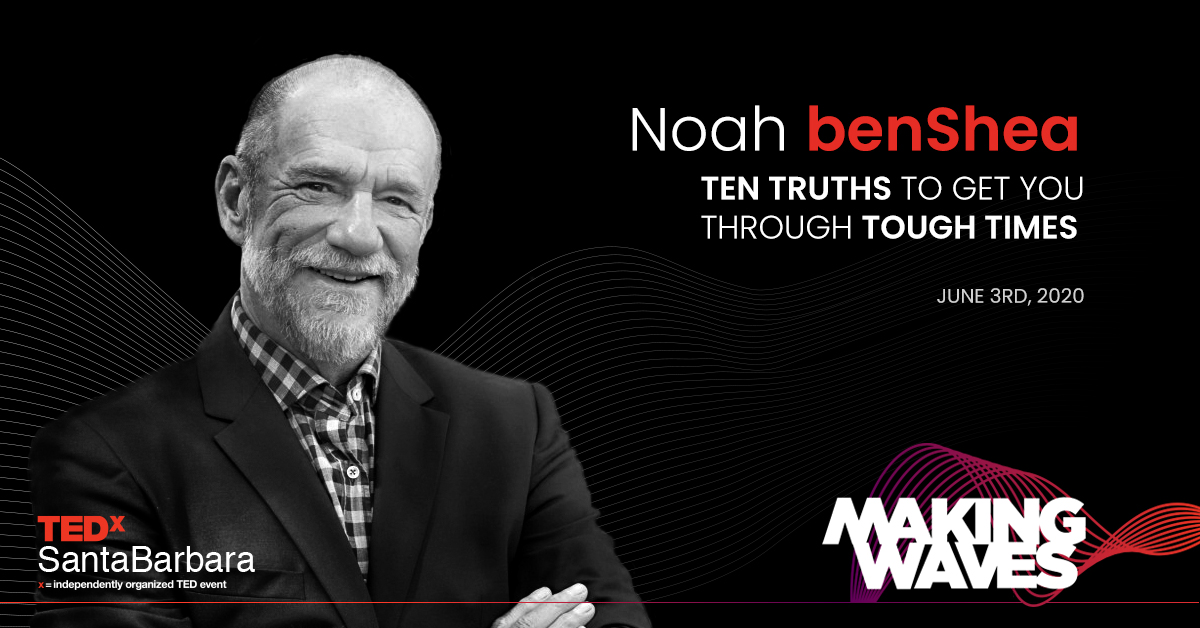 Noah benShea – TEN TRUTHS TO GET YOU THROUGH TOUGH TIMES
---
Ten truths to get you through tough times
A conversation to reframe how we think about our current situation.
---
Noah benShea kicked off our series of Conversations on June 3rd, 2020. He was on our TEDx stage in 2010 when he delivered three essays on Imagination. He and Mark Sylvester, Making Waves' host, talked about his Ten Truths to get us through tough times.
---
---
Noah benShea is one of North America's most respected and beloved poet philosophers. He is a Pulitzer Prize-nominated, Best Selling author of 28 books.
He is a scholar and theologian who has spoken to numerous universities and institutions, including The Library of Congress and The US Department of Defense. He has been published by Oxford University Press and The World Bible Society in Jerusalem. He was a Dean at UCLA at the age of 22 and at 30, a Fellow at several esteemed "Think Tanks."
---
"MAY YOU GO FROM STRENGTH TO STRENGTH, AND BE A SOURCE OF STRENGTH TO OTHERS." - NOAH
TEN TRUTHS
#1
BE BRAVE.
COURAGE IS CONTAGIOUS.
SO IS FEAR.
PLANT HOPE.
HARVEST FAITH.
AND PUT YOUR FAITH,
NOT YOUR FEARS IN CHARGE.
COURAGE IS FEAR,
THAT HAS SAID ITS PRAYERS.
#2
DON'T WORRY IF YOU CAN'T SLEEP.
WORRY IF YOU'RE NOT AWAKE.
DON'T WORRY IF YOU FEEL ALONE, 
WE'RE ALL ALONE, TOGETHER. 
DON'T WORRY ABOUT WHAT YOU FEAR.
IN EACH OF US, 
THERE IS A PLACE,
WHERE YOU ARE BETTER,
THAN YOUR FEARS.
HOPE FOR THE BEST
MAKE PEACE WITH THE REST. 
#3
HEROISM CAN BE BORN 
ON THE BATTLEFIELD,
OR IN THE DUNGEON OF DEPRESSION,
OR IN THE ATTIC OF ANXIETY.
BUT HEROISM 
IS ALWAYS CONCEIVED, 
IN THE SHADOWS
OF ALONENESS,
WHERE NO ONE ELSE WILL KNOW,
THE FEARS YOU FACED,
IN YOUR REFUSAL,
TO BE HANDCUFFED BY STRESS, 
OR DEFEATED BY DOUBT
#4
IF YOU HAVE SUFFERED LOSS,
IN THESE TIMES,
YOU MAY BE FEELING ANGRY,
AND YOU HAVE A RIGHT TO BE ANGRY.
BUT YOU ALSO NEED TO BE CAREFUL.
BECAUSE ANGER IS ALWAYS LOOKING FOR BLAME.
AND IF BLAME IS YOUR COMPASS,
THE INTEGRITY OF YOUR LOSS, 
WILL BE LOST.
BLAME IS AN ARROW 
THAT SHOOTS THE ARCHER 
WHO DRAWS THE BOW. 
#5
IN TOUGH TIMES, 
IT'S EASY TO CONFUSE 
FINANCIAL LOSS WITH BEING LOST.
BUT NO ONE HAS EVER FOUND THEIR WAY, 
WHO HAS NOT AT SOME POINT FELT LOST. 
SO DON'T CONFUSE HAVING LESS, 
WITH BEING LESS,
HAVING MORE WITH BEING MORE,
OR WHAT YOU HAVE WITH WHO YOU ARE.
BEING BROKE IS NOT THE SAME 
AS BEING BROKEN
OR BEING RICH WITH LIVING A RICH LIFE.
FIND VALUE IN WHO YOU ARE,
AND TAKE THAT TO THE BANK.
#6
SADNESS IS A SEASON, 
AND SEASONS CHANGE.
EVERYTHING IS PENDING.
SECURITY IS MOSTLY SUPERSTITION.
IF THAT MAKES YOU FEEL INSECURE,
HANG ON AND HANG IN.
DON'T CONFUSE HOW YOU FEEL, 
WITH WHO YOU ARE.
FEELING BADLY, 
DOESN'T MEAN YOU'RE A BAD PERSON. 
ANY MORE THAN FEELING LONELY 
MEANS YOU'RE ALONE. 
THINGS DON'T HAVE TO BE GOOD, 
FOR YOU TO BE GREAT.
#7
YOU ONLY HAVE TWO ARMS.
IF YOU'RE BUSY HUGGING THE PAST, 
YOU CAN'T EMBRACE THE FUTURE.
DON'T LET THE PAST KIDNAP YOUR FUTURE.
WE ALL REMEMBER WHAT WE WANT
TO FORGET.
CHANGE IS THE ONLY CONSTANT.
AND REALITY IS ONLY A MEMORY, 
AHEAD OF ITS TIME.
WHEN THE WIND AT YOUR BACK
BECOMES THE WIND IN YOUR FACE,
IT JUST MIGHT BE GOD,
BLOWING YOU KISSES.
 #8
NO ONE CAN TAKE YOUR GOOD DEEDS,
AND NO ONE WILL TRY, 
TO STEAL YOUR TROUBLES.
FEELINGS OF GUILT WON'T IMPROVE THE PAST. 
AND ANXIETY WON'T CHANGE THE FUTURE.
THE BEST WAY, 
TO GET WHERE YOU ARE GOING, 
IS TO BE WHERE YOU ARE. 
PLAY THE PART,
NOT THE RESULT.
A GREAT PERSON 
IS ANYONE TRYING TO BE A BETTER PERSON.
AND YOUR WORK IN THIS LIFE,
ISN'T WHAT YOU DO, 
BUT WHO YOU ARE.  
#9
TIME DOESN'T WEAR A WATCH.
IF YOU THINK YOU'RE RUNNING OUT OF TIME,
STOP RUNNING. 
WHAT GROWS, 
NEVER GROWS OLD.
SO RELAX,
DON'T CONFUSE GIVING UP
WITH LETTING GO. 
THERE ARE NO GROWN-UPS, 
ONLY GROWING UPS.
YOU DON'T HAVE TO DIE 
TO BE REINCARNATED. 
AND IT IS A WONDERFUL THING TO GROW OLD, 
IF YOU GRANT YOUR WONDER, 
THE RIGHT, 
TO BE BORN AGAIN. 
 #10
IN TOUGH TIMES, 
TOO MANY OF US, TOO OFTEN, THINK JUSTICE 
IS SOMETHING 
FOR JUST US.
BUT A JUST OUTCOME IS MORE, 
THAN JUST HOW DEEPLY 
YOU CAN GET YOUR HEAD, 
DOWN IN THE TROUGH.
APPETITE ONLY KNOWS APPETITE.
ONLY PEOPLE WITH BREAD,
DREAM OF BUTTER.
THE BEST WAY TO MANIFEST YOUR DREAM 
OF A BETTER WORLD 
IS BY BEING A BETTER PERSON. 
THE PROPHET MICAH, GOT IT RIGHT
BE JUST,
LOVE MERCY,
AND WALK HUMBLY WITH YOUR GOD.
 COPYRIGHT 2020, NOAH BENSHEA