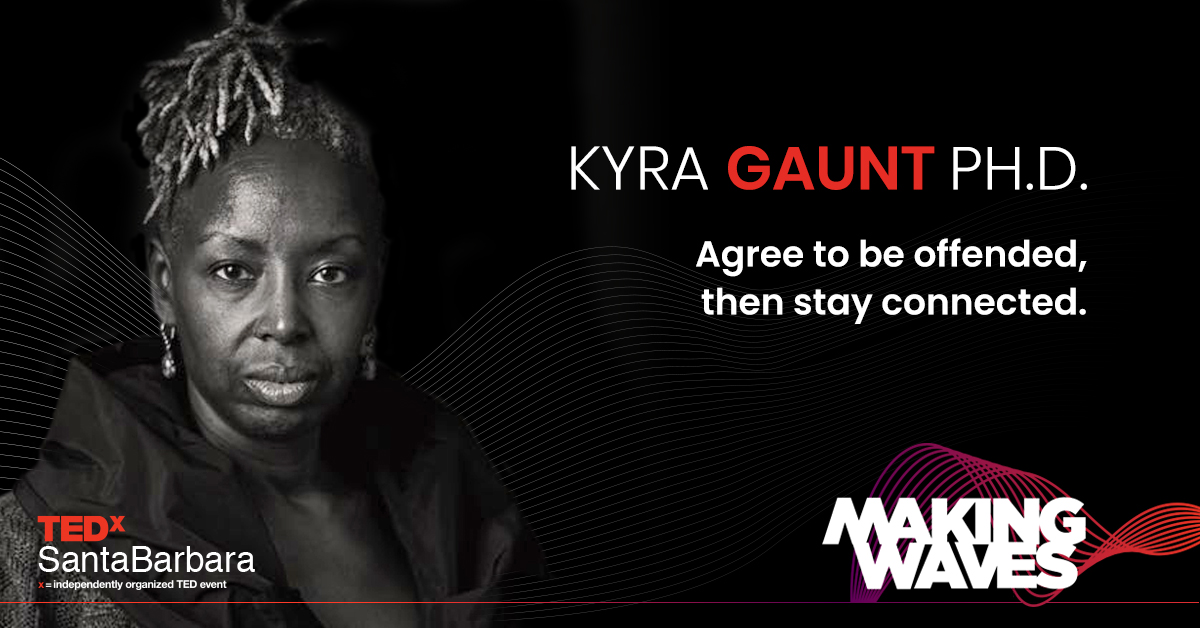 Kyra Gaunt, Ph.D – Agree to be offended, then stay connected.
---
Agree to be offended, then stay connected. Unlocking opposition by making musical waves.
---
In 1903, W.E.B. Du Bois asked the question, "How does it feel to be a problem?" Day-to-day many of us witness and tolerate marginalization. In this critical juncture in our history, Dr. Gaunt shares lessons from Black girls' musical play and from embracing discomfort by agreeing to be offended or from vulnerable sharing about marginalization.
Ethnomusicologist, Assistant Professor, State University of New York, Albany
---
For over 20 years, Kyra D. Gaunt, Ph.D. has been a noteworthy leader in the field of ethnomusicology as a prize-winning author, a singer-songwriter, a professor, and a digital ethnomusicologist. Her book The Games Black Girls Play: Learning the Ropes from Double-Dutch to Hip-Hop (NYU Press), funded by NEH and the Ford Foundation, won the 2007 Alan Merriam Prize from The Society of Ethnomusicology. That book, and her subsequent publications, contributed to the emergence of hip-hop music studies, black girlhood studies, and hip-hop feminism.
In 2018, Dr. Gaunt was featured in "How the Jump Rope Got Its Rhythm" in TED's Small Thing, Big Idea series, reaching over 7M+ views published in over 25 languages. In 2020, she became a Senior TED Fellow and her article on "The Magic of Black Girls Play" was featured as an editors' pick in the New York Times. Her next project is a book titled PLAYED: Twerking at the Intersection of Music, YouTube, and Violence Against BlackGirls.
Dr. Gaunt holds a Ph.D. from the University of Michigan is currently on faculty at the University at Albany, SUNY. In addition to her day job, she is a federally-certified expert witness on social media and her original music is available on iTunes, CD Baby, YouTube, and Spotify.
---